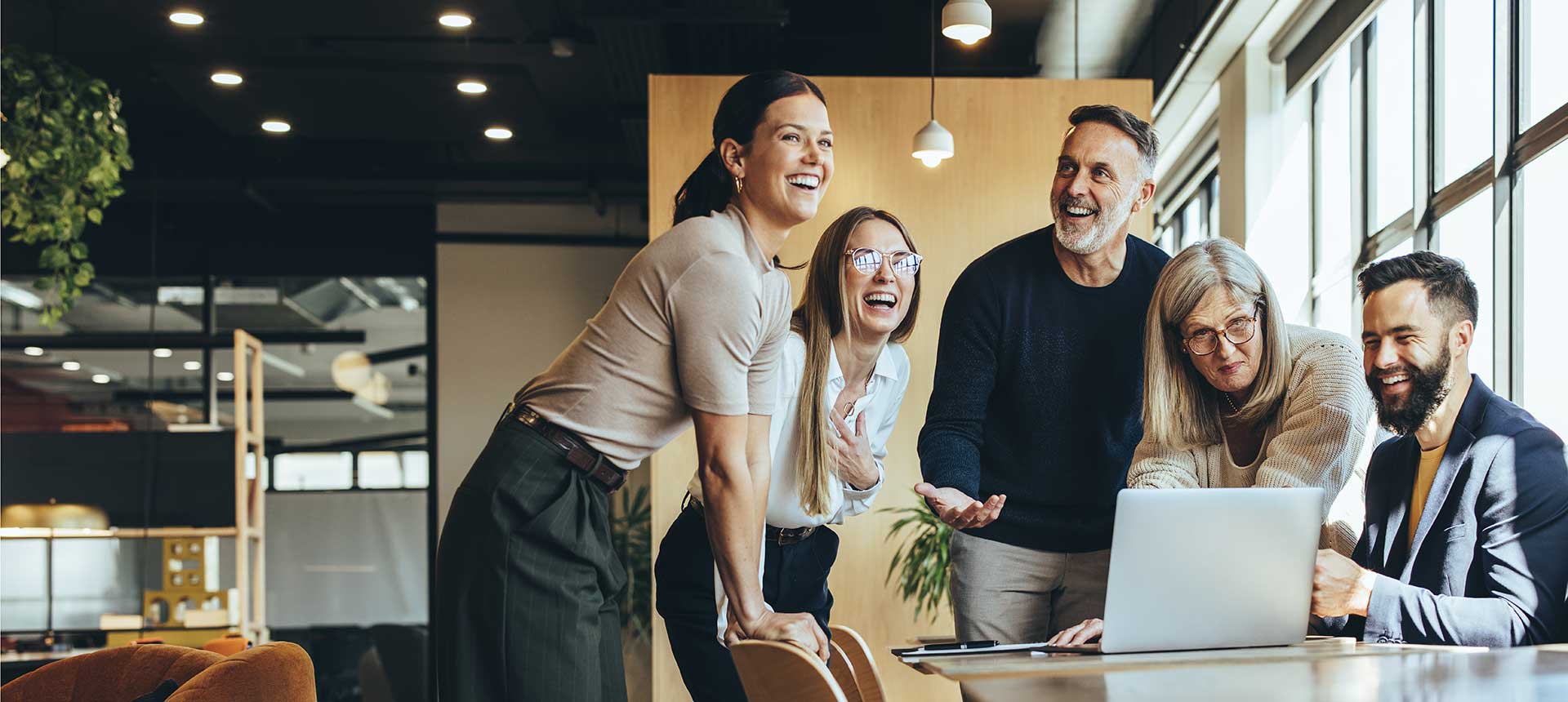 Top five ways to keep your employees engaged in the modern workplace
Keeping employees happy, motivated and connected with their work is a constant challenge for all businesses, now more than ever. Today's work environments are very different from how they were two years ago, let alone ten, as a result of the pandemic. Modern workplaces are now centred around technology, but the dynamic is totally different and constantly shifting due to more people working either partly or fully remotely. This environment can lead to digital exhaustion, the isolation of teams, and employee detachment, all of which are detrimental to employee motivation and engagement levels.
So, what's the solution? Thankfully, there is a huge variety of ways to improve employee engagement, especially in the digital age. In this blog, we're going to take a look at five key ways you can boost engagement. It's all about getting a little creative and taking the time to properly implement best practices and new strategies. Let's jump in!
WHAT IS EMPLOYEE ENGAGEMENT?
Employee engagement defines how employees feel about their work and their company. When an employee feels engaged, they're more likely to be motivated, productive, loyal and go the extra mile at work. On the other hand, disengaged employees don't feel connected to their company and are less inclined to participate in social events, work collaboratively with their colleagues and contribute positively to the business. All of these things are not only detrimental to the individual themselves but also to their company.
Disengaged employees are more likely to call in sick to work, make mistakes and even leave their company. On the other hand, highly engaged individuals are one of the key driving factors for a successful company. For this reason alone, it's clear that you should be focusing on employee engagement and implementing strategies that actively encourage high engagement levels in your people.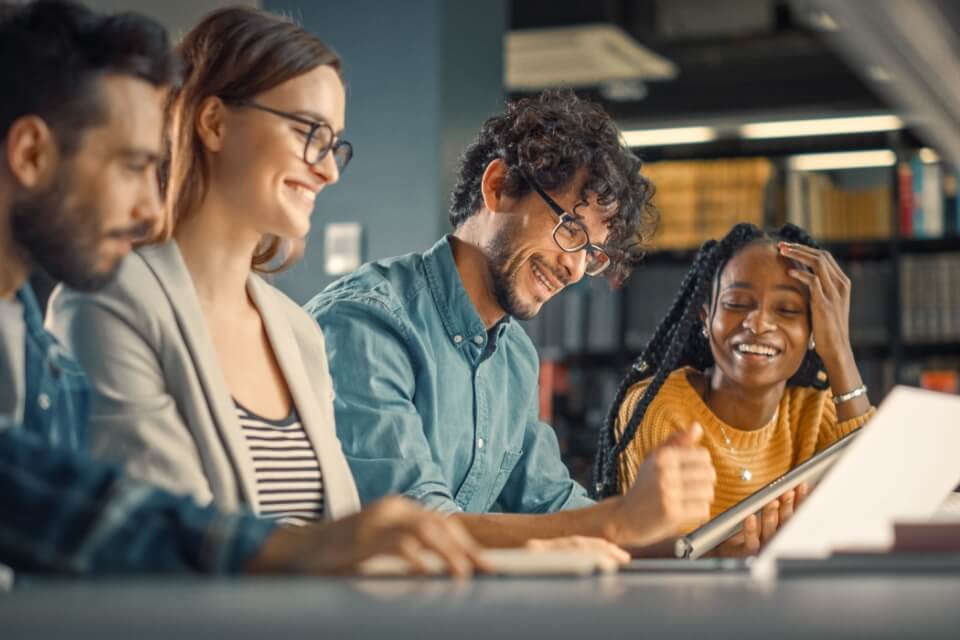 ---
How to boost employee engagement
To build a highly engaged workforce, your company needs to remain employee-orientated in their operational approach and focus on creating a culture and working environment that motivates, rewards and supports teams both in the office and virtually. To help you achieve this, we've got five handy tips on how to do just that.
A work environment that makes employees feel positive, comfortable and motivated to be the best versions of themselves is conducive to an engaged workforce. If your business makes no effort to create a positive work environment, employees will start to have feelings of detachment whereby they feel isolated from their colleagues, devalued and demotivated. It's clear that office-based businesses are having to re-think the look and feel of their work environment following the pandemic. In fact, 66% of business decision-makers are considering redesigning physical spaces to better accommodate hybrid work environments.
A positive work environment fosters connection, collaboration and creativity. When your employees are working in the office, they should feel encouraged to socialise with their colleagues, collaborate in a positive way and feel part of a community of people working towards a common goal. This can be achieved by creating social areas for employees to connect, having creative meeting rooms that inspire collaboration and making the space overall feel welcoming. By doing this, your employees will feel motivated when they come into the office, be more productive day-to-day and feel higher levels of engagement.
1. CREATE A POSITIVE WORK ENVIRONMENT
When employees feel valued by their employer, they are far more likely to go the extra mile and feel engaged at work. A powerful way for your business to demonstrate its appreciation of its team is to deliver compelling and valuable benefits. Employee benefits play a huge role in building and maintaining a highly engaged workforce, as well as attracting top talent in the competitive job market.
To effectively reward your employees, it's all about delivering benefits that add real value to their lives. Shopping discount schemes are popular because employees can save money on their everyday spending, make their money go further and improve their financial wellbeing. On top of that, there are other benefits catered to the health and wellbeing of employees, such as Health Cash Plans, Employee Assistance Programmes, GP Helplines and Mental Health Support Apps that make a positive difference to employees and show them that they're valued, and you take their wellbeing seriously. With this in mind, your benefits package should address all three of the core elements of employee wellbeing: financial, physical and mental.
2. RECOGNISE AND REWARD YOUR TEAM
To help employees feel fulfilled at work, businesses need to invest in their personal development. Giving your team clear career progression opportunities and the ability to refine their skills are fundamental ways to maintain high engagement levels. This is because your employees will be able to reach their professional goals with the support of your business and will therefore be more likely to feel motivated and committed in their jobs.
Regular training days in the office are a great way to not only change up the day-to-day dynamic but also give employees the valuable opportunity to learn new skills. Whether it's company-wide or team-based, these in-person learning events will inspire your employees to sharpen their knowledge and refine their abilities in their field. Supporting that with online learning and development tools that your employees can complete in their own time will help you build a more focused, enthusiastic and engaged workforce.
3. SUPPORT EMPLOYEE DEVELOPMENT
Employee wellbeing and employee engagement mutually reinforce each other so it's vital that your team members feel happy and healthy both inside and outside of work in order to positively contribute to your business' goals. A key part of achieving this is encouraging healthy work practices to ensure your team maintains a good work-life balance and feels fulfilled in all areas of their lives.
Offices are notorious for their fast-paced nature, which means it can be very easy for employees to feel pressured into working long hours and letting work infiltrate their home lives. This can create a strain on relationships, and long term, this leads to unhealthy levels of stress and even burnout. By prioritising employee wellbeing and encouraging your team to keep their work-life balance in check, your business will build a healthier, happier and more engaged workforce.
4. ENCOURAGE HEALTHY WORK PRACTICES
Having clear goals to work towards is essential to your team's engagement. Goals provide a sense of purpose and direction which fuels individuals' motivation and gives them the drive to be committed to their jobs. Performance or behaviour-based reward programmes are therefore a powerful way to drive engagement, especially in the modern office where it can be easy to lose sight of the bigger picture due to digital exhaustion and busy schedules.
The type of reward programme you introduce will depend on your business goals. If you want to increase employee retention levels, a Long Service Award programme will give your business the opportunity to reward employees' loyalty to your business and give them an incentive to stay committed. Alternatively, if you want to drive sales, a performance-based incentive programme will give employees the extra motivation to hit their sales targets.
Reinforcing these clear goals through rewards will give your team more drive and therefore a greater sense of fulfilment and engagement when they reach them. You can have them visually displayed in your office to remind employees and even perhaps a leaderboard to encourage healthy competition.
5. REINFORCE EMPLOYEES' PURPOSE AND GOALS
---
FINAL THOUGHTS
The modern office creates new challenges for keeping employees engaged. The fast-paced world of work, coupled with the many streams of digital communication and the added dynamic of hybrid working, means that employees can feel detached, de-motivated and devalued. With planning, creativity and keeping your people front of mind, you can create an office that is productive, enjoyable and conducive to an engaged workforce.
Find out more about how we drive employee engagement for businesses just like yours across the UK here.
Back to blog